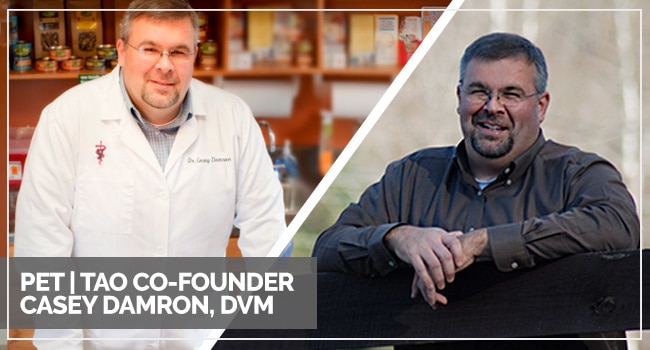 Casey Damron, DVM
PET TAO Co-Founder and TCVM Veterinarian
Dr. Casey Damron loves a challenge.

A full-time practicing veterinarian for over 15 years, Dr. Damron's mission has been to find answers to the difficult questions veterinarians come across in their clinics each day.
Dr. Damron received his Doctorate Degree in Veterinary Medicine from the University of Tennessee in Knoxville in 1998. After many years of practicing traditional Western medicine, his interest was piqued when he began to see, first-hand, the benefits alternative treatments had to offer.
Dr. Damron then went on to obtain additional training from 2006-2009 in the principles of Eastern Medicine at The Chi Institute in Reddick, Florida. At Chi, he studied under Eastern veterinary medicine expert Dr. Huisheng Xie. His areas of expertise include Chinese Acupuncture, Herbology, Food Therapy, and Tui-Na.
Driven to provide his clients at White Oak Animal Hospital, located in Fairview, Tennessee, with the best treatment options that both Western and Eastern medicine have to offer, Dr. Damron is convinced that a balanced, integrative approach between both streams of veterinary medicine is key.
Dr. Damron's interest in food therapy and its health benefits led him and his longtime friend and colleague, Dr. Marc Smith, to develop PET | TAO Holistic Pet Products.

"I was a bit of a skeptic when it came to 'those' types of therapies, but it couldn't be denied there were gaps in what traditional Western medicine could accomplish for some animals. When I saw the incredible benefits animals were receiving from things like acupuncture for pain relief and nutrition balanced with the energetics of Eastern Food Therapy, I was sold."
– Casey Damron, DVM