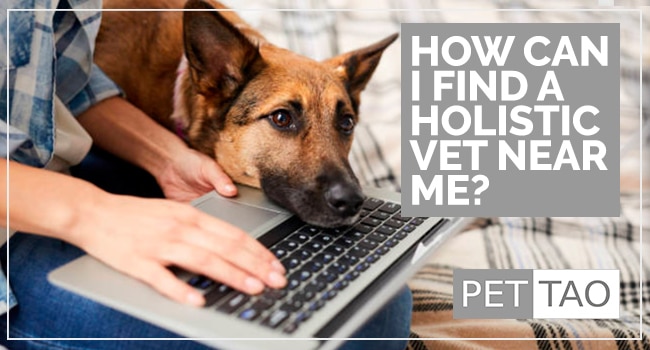 How Can I Find a Holistic Vet Near Me?
Are you interested in trying one of the TCVM Eastern herbal formulas? Because of the nature of TCM and how the treatments work, we cannot sell TCVM Herbal Formulas or give medical advice without Dr. Smith or Dr. Damron personally examining the animal. If you are not in our area, we highly recommend any of the holistic veterinarians listed below. If you can't find a holistic vet near you, Dr. Smith can help you via phone consultation. The cost of a phone consultation is $110. Please call 615-750-2248 to schedule your consultation.
Or, maybe need a little more help with food therapy for pets? If so, you need the help of a TCVM-trained holistic veterinarian. The veterinarians listed below practice alternative veterinary medicine and/or TCVM (Traditional Chinese Veterinary Medicine). In addition, the vets listed practice Eastern Food Therapy and will help you create custom diets for your pet. TCVM-trained holistic vets often also offer acupuncture, chiropractic, and other natural modalities.
ALABAMA
Scott E White DVM
Integrative Practice – Acupuncture and Herbs, Diet
Small Animal and Reptile Practice
Tidmore Veterinary Hospital
2914 Lurleen B Wallace Bvd
Northport AL 35476
205-339-5555
www.tidmorevet.com
ARKANSAS
Western Grove Veterinary Clinic
Beverly Chevallier, DVM, CVA, CVCH, CVFT
870-429-5299
Western Grove,  AR  72685
CALIFORNIA
Animal Healing Center
Dr. Diana Drumm
619-276-5900
San Diego CA 92118
http://www.animalhealingcenter.net/index.html
The Cat Doctor & Friends
Dr. Tracy McFarland
661-259-5288
Santa Clarita CA 91350
http://www.catdoctor.com/
Dr. Linda Davis
619-421-5139
Chula Vista, CA 91913
East West Fusion Veterinary Services
Dr. Ilsi Medearis
530-941-3422
Rohnert Park CA 94928
Facebook: https://www.facebook.com/eastwestfusionvetservices/
COLORADO
Animal Care Center
Dr. Janet Varhus
719-539-1086
120 Pahlone Parkway
Poncha Springs, CO
http://animalcareponcha.com/
DELAWARE
Veterinary Alternative Care
Dr. Christina Abramowicz
302-228-8646
Lewes DE 19958
http://www.vetaltcare.com/Veterinary_Alternative_Care/Welcome.html
FLORIDA
Animal Healing Solutions
Dr. Deneen Fasano
407-308-7878
Altamonte Springs, FL 32701
http://animalhealingsolutions.com/
Blue Run Veterinary Practice
Dr. Kristi Jackson
352-489-9080
Dunnellon, FL 34431
http://bluerunvet.com/
My Pet's Animal Hospital
Dr. Donna McWilliams
863-646-3669
Lakeland, FL 33811
http://floridavet.com/
Truli Holistic Veterinary Services
Dr. Sandra Truli Springer
877-378-7854
Palm Harbor, FL 34685
http://vetvmd.com/
GEORGIA
Pharr Road Animal Hospital
Dr. Steve Winokur
404-237-4601
Atlanta GA 30305
https://www.prahvet.com/
Winterville Animal Hospital
Dr. Judith Saik
678-429-2551
Winterville GA 30683
http://wintervilleanimalclinic.com/
ILLINOIS
Bortell Animal Hospital
Dr. David Bortell
309-662-3633
Bloomington IL 61704
http://bortellanimalhospital.com/
INDIANA
Southlake Animal Hospital
Andrea Carlson DVM
219-942-0909
3570 E. Lincoln Hwy
Merrillville, IN 46410
Certified in Chinese
Herbal Medicine
and Food Therapy, Training in Acupuncture
MASSACHUSETTS
Mind Body and Paws Acupuncture
Joy Alleman, DVM, CCRT, CVA
Watertown, MA 02472
www.pawsacupuncture.com
MISSISSIPPI
Alternative Medicine for Pets
Connie Clemons-Chevis, DVM, M.S. TCVM
228-671-6210
2016 Benigno Lane
Bay Saint Louis, MS 39520
Mobile Veterinary Acupuncture
Dr. Alice Xenachis
732-233-4390
Saucier, MS 39574
NEVADA
Natural Care Institute
Dr. Nancy Brandt
702-617-3285
Las Vegas NV 89118
http://nancybrandtdvm.com/
Whole Dog Haven
Dr. Elisa Bandelin
775-461-3694
Carson City NV 89701
http://www.wholedoghaven.com/
NEW HAMPSHIRE
Positive Chi Alternative Veterinary Medicine
Dr. Haley, DVM
603-660-6815
Bedford, NH 03110
http://positivechinh.com/
NEW JERSEY
American Animal Hospital
Dr. Brian Voynick
973-895-4999
Randolph, NJ 07869
http://www.americananimalhospital.com/
Kendra V. Pope, DVM. DACIVM (Oncology), CVA, CVCH, CVFT, CVTP
Integrative Veterinary Medicine and Oncology
Traditional Chinese Veterinary Medicine
732-268-8553
252 Broad Street, Suite 3
Red Bank, NJ 07701
http://www.drkendrapope.com
NEW MEXICO
Zen Animal Wellness
Dr. Heather Fox
575-779-7279
El Prado NM 87529
http://zenanimalwellness.com/
NEW YORK
Advanced Animal Care Center
Dr. Michel Selmer
631-367-7387
Huntington Station, NY 11746
http://advancedcareforpets.com
Canton Animal Clinic
Dr. Amy Thompson
315-386-2754
Canton, NY 13617
Richmond Valley Veterinary Practice
Dr. Lisa A. Esposito
718-948-3331
4915 Arthur Kill Road
Staten Island, NY 10309
http://richmondvalleyvet.com
Zen Dog Veterinary Care PLLC
Dr. Ray Spragley DVM CVA CCRT
Integrative Veterinary house calls (Acupuncture, Physical Therapy, Chinese Herbs)
917-725-2755
New York, NY 10001
https://www.zendogvet.net/
NORTH CAROLINA
Atrium Animal Hospital
Dr. Kim Hombs
704-542-2000
Charlotte NC 28226
http://www.atriumanimalhospital.com
Shearer Pet Health Services 
Dr. Tamara Shearer
828-586-3300
Sylva NC 28779
http://shearerpethealth.com/
OHIO
Animal Housecalls
Dr. Karen Kowalski
513-598-858
Cincinnati OH 45248
http://doctorkonline.com/index.html
Holistic Vet Practice
Dr. Pamela Fisher
330-266-2500
N. Canton OH 44720
http://holisticvetpractice.com/index.html
Lifetime Pet Wellness Center
Jim Carlson, DVM,  CVA, CVSMT
614-888-2100
454 Lazelle Rd.
Columbus, OH 43240
http://lifetimepetwellness.com/
Paws in Balance
Dr. Carrie Crouse
614-715-4729
Worthington, OH 43085
OKLAHOMA
Animal Acupuncture
Dr. Heather Owen
Tulsa, OK 74135
http://www.animalacupuncturellc.com/
Best Friends Animal Clinic
Dr. Brad Roach
405-273-5617
Shawnee, OK 74801
http://bestfriendsanimalclinic.vet/
PENNSYLVANIA
Animal Hospital of Mt. Pocono
Dr. Joseph Valese
570-839-8116
Mount Pocono PA 18344
http://poconopetvet.com/
Dr. Karen Collins
215-687-6245
Langhorne PA 19047 / Telford PA 18969
Facebook: https://www.facebook.com/HolisticPetHealingKarenCollinsVMDLLC
Ellwood Animal Hospital
Dr. Cynthia Maro
724-758-8882
Ellwood City PA 16117
http://ellwoodvet.com/
Kanyon's Golden Veterinary Care
Dr. Kristine Cyr
570-402-0572
Brodheadsville PA 18322
http://www.kanyonsgold.com/
Meadowbrook Animal Hospital
Dr. Suzanne Walski
610-847-2776
Ottsville PA 18942
http://suzannewalskidvm.com/
SOUTH CAROLINA
Dr. Mandy DuBose
803-480-0604
648 Pintail Drive, Aiken SC 29803
http://www.acupetwellness.com
TENNESSEE
Claws and Paws Mobile Vet Services
Dr. Shannon Dawkins
423-779-7467
Redbank TN 37415
http://mobilevetchattanooga.com/
East Ridge Animal Hospital 
Dr. Karen Knarr
423-622-2209
Chattanooga TN 37412
http://www.vetyourpets.com/
Natchez Trace Veterinary Services – Franklin
Dr. Marc Smith
615-790-8100
3813 New Hwy 96W, Franklin, TN 37064
http://www.franklintnvet.com
Natchez Trace Veterinary Services – Nashville
Dr. Marc Smith
615-750-2248
6614 Hwy 100, Nashville, TN 37205
http://www.nashvilletnvet.com
White Oak Animal Hospital
615-799-7981
Dr. Casey Damron
1341 Fairview Blvd., Fairview, TN 37062
http://whiteoakvet.com/
TEXAS
Jennifer Smallwood DVM CVA CCRP CVFT
Integrative Veterinary Wellness
2701 Custer Pkwy Suite 803
Richardson, Texas 75080
469-250-4023
Integrativeveterinarywellness.com
VIRGINIA
Animal Wellness Center
Dr. Hillary Cook
434-823-8883
Crozet, VA 22932
http://www.crozetanimalwellnesscenter.com/
Dr. Angela Bross, DVM, MBA
Joy-Chi Veterinary Acupuncture PC
P.O. Box 3705
Hampton, VA 23663
757-771-9480
VetReceptionist@Bross.com
http://www.joychiveterinaryacupuncture.com/
WASHINGTON
Dr. Elena Lazareva
425-698-1789
Bellevue, WA 98008
WISCONSIN
Jody Bearman DVM, CVSMT, CVA, CVCH
College of Animal Chiropractics
Academy of Veterinary Homeopathy
Phone: 608-333-7811
Fax: 800-809-6682
Madison, WI 53717
OUTSIDE THE UNITED STATES
Hoof and Paw Veterinary Acupuncture Services
Susan Nadeau, DVM
403-540-8520
Cochrane, Alberta T4C 1B7, CANADA